..the James has come back to Japan.
After what feels like the travel day from Hell I am settled at my hotel, the Grand Prince Asakasa for those of you who are wondering, and about to head to bed. Before that I thought I would share this: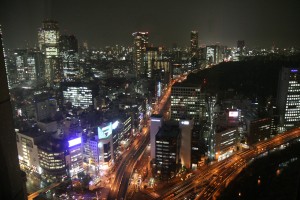 The view from my hotel window.
After getting settled, showered and changing clothes I decided to acquaint myself with the neighborhood. I can't remember where I read it, and am too lazy to consult the Google machine, but whoever said the best way to get to know a city is to get lost in a city is absolutely right. I LOVE going for walks in strange cities, particularly at night when the streets are alive with people leaving work or going on dates. I like to wander aimlessly through the streets and just get a sense of the crowds.
Tonight I did that for a bit before I stopped at a convenience store and picked up dinner:


Yummy! Now it is time for bed so I can take advantage of the not shitty weather tomorrow. I plan on hitting Hakone for the day.